Project description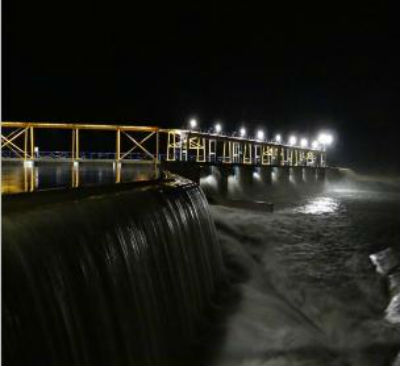 SHPP Kunino includes the following structural components:


Massive overflow dam across the Iskar river, fish passage on the left bank of the river between the overflow dam and the dike;
Water collection installations – on the right bank of the river;
Two-chamber mud baffle with a flush channel;
2,640 m diversion sloped canal, concrete-coated, delivering the water flow to the water chamber and the building of the HPP;
Pressure water chamber at the end of the derivation canal;
600 m ditch-type water exit, discharging the processed water back to the Iskar river, protective dike with a drainage canal on the left bank of the river;
Equipment and installations for the structural components, grid connection equipment.
The length of the project is approximately 6 km. All the project land, approximately 150 dka is owned by Kunino Energy AD. Another 50 dka agricultural land nearby is owned by Kunino Energy as well.
Kunino Energy AD performed sizable improvement of the 20 KV grids in the region, incl. modernization of 6 km 20 KV line, owned by CEZ, reconstruction and equipment of 20 KV cell in NEK substation, construction of 0.5 km new line, connecting CEZ grid with NEK substation. These investments give Kunino Energy the comfort that energy delivery in long term will be reliable.



The main technical parameters of the hydro power plant are presented in the Table below:


| | | |
| --- | --- | --- |
| Parameter | Measuring Unit | Value |
| Water collection elevation – UWL | m | 137.00 |
| Processed water discharge elevation – LWL | m | 124.48 |
| Gross head | m | 11.00 |
| Net head | m | 10.47 |
| Water flow utilized | m3/s | 48.00 |
| Kaplan turbines | quantity | 2 |
| Total installed capacity of turbines | kW | 4,410 |
| Annual load | h | 6,004 |
| Total electricity generated p.a. | kWh | 26,000,000 |

The turbines are supplied by Mavel. Mavel A.S. is a Czech company with more than a century experience in hydro power turbines manufacturing. Mavel is known to have prime know how in manufacturing Kaplan turbines which process large water quantities (above 20 m3/s), as well as the best quality/price ratio. Mavel has more than 20 installations in Bulgaria and provides good guarantee terms and maintenance services. The generators are produced by Siemens.

The project designer is the company Storyexpert-Engineering run by Liliana Karafizieva. Liliana Karafizieva is a project designer of more than a dozen HPPs along the Iskar River, thus having unsurpassed experience in designing HPPs on this river. The general construction company is Ruen Holding, a company, experienced in construction of hydro power plants.